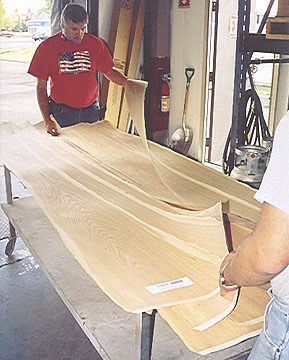 Here at Technical Finishing Services, wood finish samples are still primarily - our livelihood. Each finisher is responsible for producing a wood finish from beginning to end.
We specifically select only the finest veneers and solid lumber that are to be used in your sampling products. We not only are in the business of matching the wood finish, but want to show the representative wood characteristics as well. All face veneers (logs) are selected by our finishers, looking for qualities in the logs that will represent your product. Our veneered and balanced panels use the finest cores and glues available for stability and machine ability. We offer different core sizes to give you the dimensions you are looking for. We generally use and inventory panels that use slip matched face veneer. This tends to minimize the veneer "flip" which most in the industry has accepted on most domestic veneer layups. We always have lots of inventory on hand in all the major domestic wood species - Cherry, Maple, Walnut, Oak (Red & White), Ash, Beech (European White), Anigre, Sapeli, Sycamore, Mahogany and Hickory. We also stock many panels in the exotic wood species. We buy our logs from many different veneer mills. We can procure any species you may have in your line as well as composite face veneers. We have close working ties with our panel producers and lumber suppliers and can usually have panels or moulding made in a very short time.
Our solid lumber is hand picked from finest sources available. Each sample we produce always have the backs and edges sealed to provide stability & integrity in your samples. A state-of-the-art sanding process is used in all our finishing operations. As with any finish, the quality of the final appearance starts with preparation and quality substrates.

The finisher will select the lumber he feels represents your Master Control panel that you will need to supply TFS. Formulation of the finish (and in most cases, production) will then take place. We use a number of coating suppliers and will insure you that only top quality, lightfast dyes, pigments, toners, glazes, wiping stains and topcoats are used for your samples. Our topcoats all have a UV inhibitor incorporated in their formulation to protect and insure the colors stay true.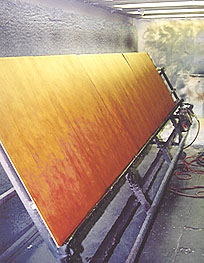 All the panels or solid lumber are finished together on large easels we built to accommodate the consistency we all are striving for. We designed our custom sized spray booths with extra lighting incorporating color retention light bulbs to provide the finisher with a quality-oriented, work environment. The finish room itself is environmentally controlled to provide a "coating-friendly" atmosphere. Regularly scheduled cleanings are maintained to insure a dust free coating for your wood finish samples.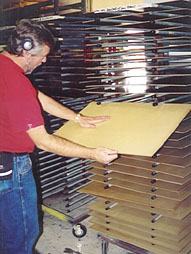 When an order is placed, a minimum number of panels or moulding will be produced. When the samples are quality checked individually, we typically throw away 30%. If the finisher feels he may have a higher rejection rate because of the finish or quality of the face veneer or machining on solid lumber, he will produce a higher quantity of panels or moulding to obtain the minimum quantity of sample chips we need to complete your order. On are veneered products, all the veneer panels are separated by the log numbers that were established by our panel processors. Your finish is always run from the same log and usually the same area from that log in order to maintain a consistent coloration, effect and wood characteristics.
The process of finishing your samples include many stringent quality control measures that must be met. Each of the washcoats, sealers, and topcoats that are applied are thoroughly cured in our production oven and sanded completely before the next coat is applied. The coatings are constantly being checked to insure a proper gloss level and industry accepted adhesion specifications. The finish color is also rechecked during the clearcoating process to insure color movement is kept to a minimum. Adjustments will be made if necessary to insure that the quality level and color consistency you need is maintained.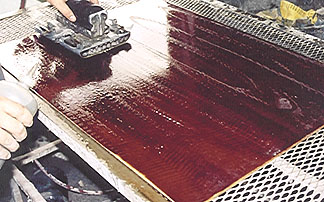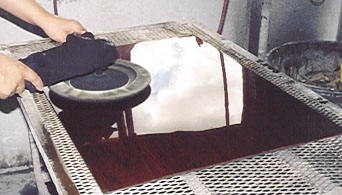 Some of the wood finishes used in the woodworking industry and produced by us have a closed-pored, high gloss process used. We take the time needed to insure a consistent fill level. We can reproduce any rubbed effects that some of our customers still use in the furniture trade. From the simple, off-the-gun, open-pored wood finish to the hand polished, high-gloss wet look, you can count on TFS to reproduce the look, feel and color of your wood finish.
The backs of every veneered panel we produce are cleaned, sanded, and thoroughly sealed up by painting them black. On solid lumber the backs are either finished or sanded clean after finishing. We want to insure that even the back of wood finish sample shows quality workmanship. After a complete cure of the topcoats, your product is rechecked again for proper gloss, fill levels and color. After finishing is completed, the production run will arrive in our saw room were we will pull the lightest and darkest panel in the batch, cut them into samples and send to you for your approval. After the parameters for your commercially acceptable color match and light/dark are established and returned, the product then proceeds to our saw room for processing of the lumber into your wood finish samples. We take every precaution to protect the finished surface of the lumber throughout this process.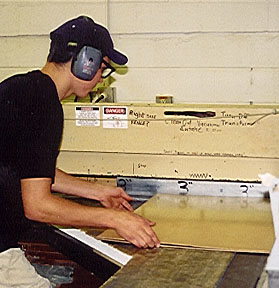 All of the veneered samples we produce are routered with a bullnose edge profile to smooth over and round off the edges. Each individual sample is inspected against the parameters that you established during the proofing process and any finish samples that do not fit the specifications established by you are discarded. The samples continue to the labeling area. Most veneered samples will get the edges painted black to match the backs. This covers up the MDF core giving the illusion of a solid piece of lumber. The samples are then labeled, usually dated, and each sample inserted into a plastic sleeve for finish protection. We can also build a number of your finishes into fan decks or insert them into clear plastic catalog pages. We package according to your specifications and most shipments are usually shipped Fed Ex ground.

Thanks for taking the brief tour of our process for producing wood finish samples at TFS. Time and time again, we have proven that we can produce wood finish samples with a higher quality representation, on time, and for less costs, versus your own manufacturing plants producing them. Please call or email me and I will be happy to send you samples of our work and provide you with a pricing.
Technical Finishing Services, Inc.
Back to Home Page